90Hz refresh rate, 8nm Exynos processor, 6000mAh battery & True 48MP Quad Camera: All that makes Galaxy M12 a #MonsterReloaded you need in your life RN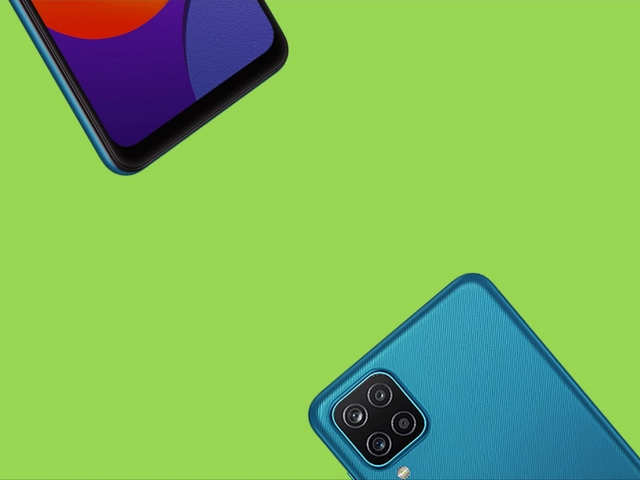 Samsung has been creating ripples in the smartphone industry with every new launch. And their latest launch is only making it bigger, better and cheaper! The Samsung Galaxy M12 is all set to be launched in India on March 11 on Amazon.in and Samsung.com. From being the first-ever budget device from Samsung to sport a display with a 90Hz refresh rate to offering an impeccable True 48MP Quad Camera set up, the Galaxy M12 is truly a #MonsterReloaded. The monstrous device is backed by a mean 8nm Exynos processor and a massive 6000mAh battery and is speculated to be super affordable at just under Rs 12000! As we eagerly countdown for the Samsung Galaxy M12 launch, here's everything that makes this device a must-have for everyone.
Let's talk Display

The Samsung Galaxy M12 dons a massive 16.55 cm Infinity-V display. The screen size is perfect for binge-watching all your favourite shows or playing the most intense games. But the cherry on the cake has to be the display packing a 90Hz refresh rate technology, which makes the overall experience of using the device a buttery smooth affair. The 90Hz refresh rate ensures that whether you are scrolling through social media or gaming on your Galaxy M12, the display is as fine as one can experience! Considering this is the first-ever 90Hz screen at this price point from Samsung, what we can hope is to get a phenomenally smooth experience.
The truth about the True 48MP Camera
Ever since the announcement of Samsung Galaxy M12 launch hit the market, people have been trying to understand what 'true resolution' actually means. This is because the Samsung Galaxy M12 is packed with an impeccable True 48MP Quad Camera with ISOCELL GM2 sensor. The true resolution, unlike a normal resolution, promises a much more consistent, precise and clear output of all our images and videos.
The 48MP main camera is paired with an 8MP Ultrawide camera, 2MP macro lens and 2MP depth lens to capture every single detail to perfection. The ISOCELL GM2 image sensor technology further enhances and improves the quality of pictures and videos that are captured on the Galaxy M12.
Unmatched performance with 8nm Exynos processor
The processor is the heart of any computing device that can make your experience memorable or turn it into a nightmare. So, it is all the more important that a compact device like a smartphone should have an efficient processor. This is where the 8nm Exynos processor on the Samsung Galaxy M12 shines & makes the device powerful and efficient. From utilising the phone's battery in an efficient way to ensuring that gaming on the device is as quick and enjoyable as possible, the 8nm Exynos processor is built to give an unmatched performance.
Conquer the day with the 6000mAh battery
And finally coming to Samsung M-series touted and celebrated feature - the battery. In the quintessential Galaxy M-series fashion, the Galaxy M12 dons an impressive 6000 mAh battery. Anyone who has questions on exactly how long-lasting is the battery, just need to look at the #MonsterReloaded challenge currently taking over the internet. In a unique and never-seen-before relay-like race, 12 celebs have been trying to beat the Samsung Galaxy M12, and so far, they have all been losing, even as the Samsung Galaxy M12 stands strong! Paired with the 8nm Exynos processor, the 6000mAh battery is touted to be extremely power efficient and will easily last you all day long without breaking a sweat.
All these factors clearly prove that the Samsung Galaxy M12 is sure to be a smartphone like no other and is truly a #MosnterReloaded. The device is all set to be launched on March 11. Following Samsung's tradition for previous M-series devices, the Galaxy M12 will also be available on
Amazon.in
and Samsung.com. You can stay updated on the latest leaks and reveals about this launch by
clicking here
.
Disclaimer: This is a brand post and has been written by Times Internet's Spotlight team.